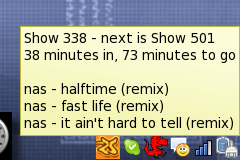 Inspired by the existing WEFUNK widgets for Mac and Windows, I decided to write my own for Linux. I did not want a big fancy traditional desktop widget that takes a lot of space on the screen and is hidden behind windows most of the time anyway, so I decided to go for a tray icon with a popup window. It docks to the GNOME panel, its KDE equivalent or a system tray like trayer. Moving the mouse cursor over the icon will display some show information. A left click opens the current show in Firefox and the mouse wheel changes the volume.
The plugin was tested on Fedora 12, Ubuntu 9.10 and Debian lenny. In Fedora, you need perl-Gtk2-TrayIcon. In Ubuntu and Debian, it's called libgtk2-trayicon-perl. The widget itself is here (solid icon) and here (transparent icon).
all images
- last change: 2014/02/18
a 2022 daduke production. all rights reserved.